MEDIASTINOSCOPY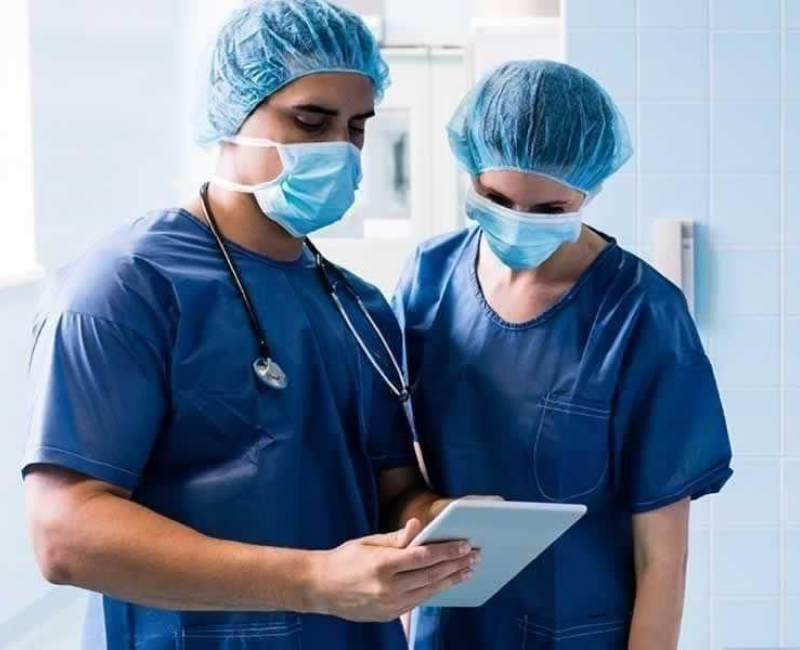 Mediastinoscopy is a surgical procedure to examine the inside of the upper chest between and in front of the lungs (mediastinum).
During a mediastinoscopy camera.gif, a small cut (incision) is made in the neck just above the breastbone or on the left side of the chest next to the breastbone. Then a thin scope (mediastinoscope) is inserted through the opening. A tissue sample (biopsy) can be collected through the mediastinoscope and then examined under a microscope for lung problems, such as infection, inflammation, or cancer.
In many cases mediastinoscopy has been replaced by other biopsy methods that use computed tomography (CT), echocardiography, or bronchoscopy to guide a biopsy needle to the abnormal tissue. Mediastinoscopy may still be needed when these methods can't be used or when they don't provide conclusive results.
Why It Is Done
Mediastinoscopy is done to:
Detect problems of the lungs and mediastinum, such as sarcoidosis.
Diagnose lung cancer or lymphoma (including Hodgkin's disease). Mediastinoscopy is often done to check lymph nodes in the mediastinum before considering lung removal surgery to treat lung cancer. Mediastinoscopy can also help your doctor recommend the best treatment (surgery, radiation, chemotherapy) for lung cancer.
Diagnose certain types of infection, especially those that can affect the lungs (such as tuberculosis).
How To Prepare
You will be asked to sign a consent form that says you understand the risks of the test and agree to have it done.
Talk to your doctor about any concerns you have regarding the need for the test, its risks, how it will be done, or what the results will mean. Be sure to discuss with your doctor what may be done following each possible biopsy result. If a lymph node contains cancer, surgery may be done to remove the cancer while you are still asleep. To help you understand the importance of this procedure, fill out the medical test information form.
Before you have a mediastinoscopy, tell your doctor if you:
Are taking any medicines.
Have allergies to any medicines, including anesthetics.
Have any bleeding problems or take blood thinners, such as aspirin, clopidogrel (Plavix), or warfarin (Coumadin).
Are or might be pregnant.
Also, certain conditions may make it more difficult to do a mediastinoscopy. Let your doctor know if you have:
– Had a mediastinoscopy or open-heart surgery in the past. The scarring from the first procedure may make it hard to do a second procedure.
– A history of neck problems or a neck injury, especially hyperextension of the neck.
– Any physical problems of your chest, including those that have been present since birth (congenital).
– Recently had radiation therapy to the neck or chest.
You will receive general anesthesia and be asleep during the mediastinoscopy. To prepare for your procedure:
– Your doctor will tell you how soon before the procedure to stop eating and drinking. Follow the instructions exactly about when to stop eating and drinking, or your surgery may be canceled. If your doctor has instructed you to take your medicines on the day of surgery, please do so using only a sip of water.
– Leave your jewelry at home. Any jewelry you wear will need to be removed before the procedure.
– Remove glasses, contact lenses, and dentures or a removable bridge just prior to the procedure. These will be given back to you as soon as you wake up after the procedure.
– Arrange to have someone drive you home after the procedure if you do not need to stay in the hospital.
Your doctor may order certain blood tests, such as a complete blood count or clotting factors, before your procedure.