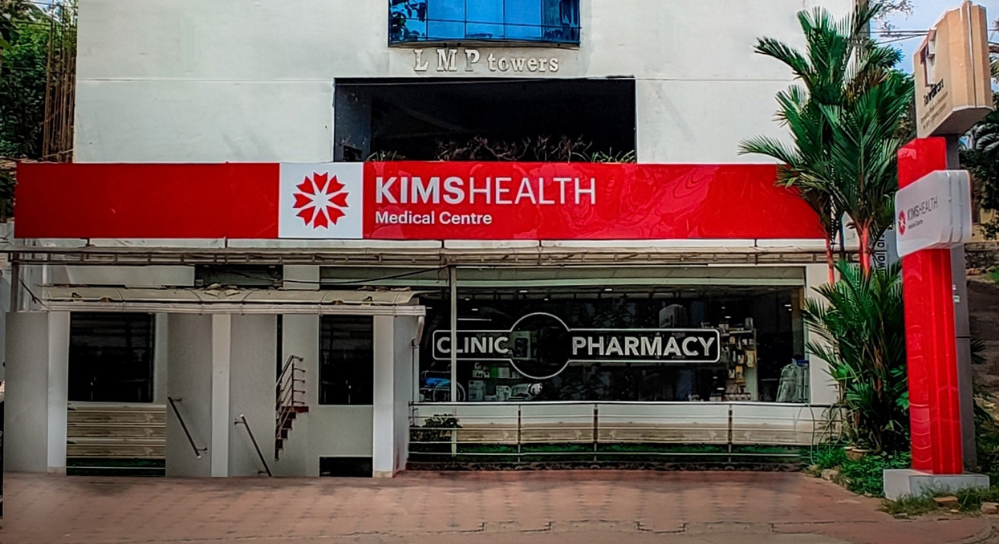 KIMSHEALTH Medical Centre (KMC) Kuravankonam was established in 2011 as a primary care wellness unit of KIMSHEALTH, to extend healthcare delivery closer to your homes with less waiting time and hassles. Our mission is to provide a high level of personal and friendly care at KMC, Kuravankonam.
Primary care services in Internal Medicine, Paediatrics, Dermatology & Cosmetology, Dental, ENT, Gynaecology, Dietary, Integrated Elderly clinic and Oncology Screening are complemented with Laboratory services and a Pharmacy with a walk-through Health Store. All our doctors have extensive general training and experience and also have individual areas of interest.
All services are of high quality, delivered efficiently in a comfortable environment.
Warm aesthetic interiors for a relaxing atmosphere, fully air-conditioned rooms with friendly staff to serve you add to your experience. Our consulting rooms are private with electronic medical records ensuring patient confidentiality. Our nurse practitioners and nurse assistants help coordinate your care across all services. Our laboratory technicians efficiently cover phlebotomy, testing under QC regulations, prompt lab reports followed with report delivery even through email. Our pharmacists dispense and if required, counsel on prescribed medication. They also guide you through the wide variety of products in the Health Store.
OP TIMING
Department

Days

Timing

General Medicine

Monday to Saturday
Sunday

09.00 am to 08.00 pm
09.00 am to 05.00 pm

Dermatology

Monday to Saturday

09.30 am to 05.30 pm

Pediatric

Monday to Saturday

09.00 am to 06.00 pm

Ent

Monday to Saturday

02.30 pm to 06.30 pm

Obstetrics & Gynecology

Monday to Saturday

09.00 pm to 06.00 pm

Dental

Monday to Saturday

10.00 am to 07.00 pm
HEALTH CHECKS & IMMUNIZATION:
KMC has a clear focus on preventative Health checks and Vaccinations, both for adults and children.
Health Check includes blood and urine tests, ECG, Ultrasound, Physician and Dental consultation. For females, Gynaecology consultation is optional. A comprehensive report is issued at the end to vouching for your health status.
Immunization according to CDC standards is given and vaccines are available in our Pharmacy.
EXTENDED HOME HEALTH CARE:
A range of clinical services is provided especially for diabetic, geriatric and disabled patients within the comforts of their homes. A team of professional doctors, nurses, assistants, phlebotomists and therapists extend their circle of care beyond the confines of the clinic. Home sample collection, ECG, injections, IV fluids, dressing, physiotherapy, etc are a few home care procedures done routinely.
For more information / appointments kindly contact: +91 471 304 477 or +91 703 444 2111 between 06.30 am to 08.00 pm
Benefits:
Continued monitoring and care at home

Avoid prolonged hospitalization

Avoid frequent hospital visits

Less expensive than in-patient treatment

Personalized care improves the condition and relieves stress
DEPARTMENTS:
Paediatrics: From birth to age 14, our paediatricians begin a lifelong connection to the well-being of your children, while at the same time delivering world-class pediatric care.
Available 09.00 am to 06.00 pm
General Medicine: With the clinical expertise, our general internists provide long-term comprehensive care, managing both common illnesses and complex problems for all stages, young adults through the elderly.
Available 09.00 am to 08.00 pm
Sunday 09.00 am to 05.00 pm
Dermatology: Aesthetic therapy is not an extravagance; it is a necessity with mass acceptance. Equipped with technologically advanced machines and personalized solutions, our premiere dermatology practice offers complete care of the skin to patients of all ages.
Available 09.30 am to 05.30 pm
Dental: Complete range of dental care under one roof with experienced dental specialists in a stringent aseptic environment offering a conservative approach to cover all aspects of dentistry.
Available: 10:00 am to 07:00 pm
Ent: Effective treatment for all ages for disorders including nasal block, sinus problems, headache, ear infection/discharge, wax removal, sore throat, etc.
Available 02.30 pm to 06.30 pm
Gynaecology: Understanding the complexities of women's health, our gynaecologist addresses conditions in adolescence, early pregnancy, sexual health, breast care, urinary problems and other gynaecology issues in line with the best practices.
Available 09.00 am to 06.00 pm
Pharmacy with Health Store: KIM'S HEALTH Medical Centre has an exclusive well-stocked Pharmacy and Health store that extends a unique shopping experience.
Service Days & Service Hours:
Monday to Saturday : 7:00 am - 10:00 pm
Sunday : 8:00 am to 8:00 pm
We also Offer FREE Home Delivery of Medicines & Health Products.
Call/whatsapp: +917034442111