The Best Medical Care Now at your Fingertips
With KIMSHEALTH Telehealth you can now manage your health care and receive the services you need remotely in a timely manner from the comfort of your home. With Telehealth services, the latest in telecommunications and virtual technology is harnessed to deliver health care outside of traditional healthcare facilities. Telehealth and Telemedicine have the capacity to revolutionize the delivery of health care.
KIMSHEALTH Trivandrum
The KIMSHEALTH (Kerala Institute of Medical Sciences) Global is a multi-specialty tertiary care hospital headquartered in Trivandrum with top class hospitals and health care centres in South India and the Middle East. The KIMSHEALTH started off as KIMSHEALTH Hospital, a multi-specialty hospital in the South Indian city of Trivandrum, Kerala. The hospital was launched in 2002 and expanded as the KIMSHEALTH, which went through an expansion in 2013 and obtained centres in other parts of the state like Kollam, Kottayam, Perinthalmanna, and Kochi and well as in the Middle East, in Saudi Arabia, Qatar, Bahrain, Oman, United Arab Emirates, and Dubai. KIMSHEALTH has invested immensely in the area of quality and safe patient care. KIMSHEALTH is the first hospital in India with both National & International accreditations. With a fine fusion of the cardinal principles of holistic care and hospitality with the three-pronged approach of courtesy, compassion, and competence, Thiruvananthapuram-based Kerala Institute of Medical Sciences (KIMS) offers a wide range of services and Telehealth Services is the latest among them.
Consult a doctor online
You can now consult online with the best medical professionals in Kerala to get medical advice, diagnosis or treatment. Avail an online consultation through our Telehealth services without having to visit the hospital. If you are already a registered patient with the hospital, please enter your medical record (MR) number and identify the specialty that you require telehealth consultation for and proceed further as directed. If you are a new patient, then our hospital representative for Telehealth will get in touch with you at the earliest.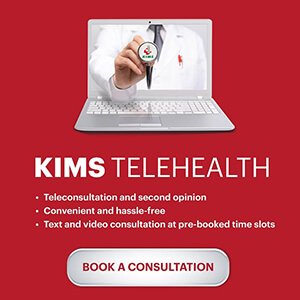 Benefits of online visit
Through the Telehealth facility you are allowed effortless access to specialists regardless of location.
Online visits can offer you the support for self-management of health care without depending on any third party.
During an Telemedicine consultation, a remote physician "sees" the patient remotely using communications technology and special medical devices.
The telemedicine specialist can examine the patient, review vital signs and patient history; provide assessment, diagnosis and treatment. This minimizes or eliminates the need for travel for either the patient or the specialist.
Technology has the potential to improve the quality of health care and to make it accessible to more people.
Telehealth services can provide opportunities to make health care more efficient, better coordinated and closer to home.
Benefits of online visit
Telemedicine offers indispensable tools for home healthcare, remote patient monitoring, and disease management to patients in rural areas and also for those in nursing homes, assisted living facilities, maritime and aviation or war field settings. The Department of Telemedicine at KIMSHEALTH enables health care professionals to evaluate, diagnose and treat patients in remote locations using telecommunications technology. Our telemedicine team provides more efficient use of limited expert resources so they can "see" patients in multiple locations wherever they are needed without leaving the hospital. The telemedicine department at KIMSHEALTH offers effective disaster relief allowing healthcare delivery capability to move in quickly after a disaster. This allows the onsite telehealth providers rapid access to advanced expertise and capabilities for triage and care electronically when and where it is most needed.
Key features of Telemedicine include
Make health care accessible to people who live in rural or isolated communities.
Make telehealth services more readily available or convenient for people with limited mobility, time or transportation options.
Provide access to medical specialists.
Improve communication and coordination of care among members of a health care team and a patient.
A variety of technologies enable your doctor or health care team to monitor your health remotely like web-based or mobile apps for uploading information, such as blood glucose readings, blood pressure, lung function to your doctor or health care team.
Through developments in Telemedicine, home monitoring devices can be made available for older people or people with dementia that detect changes in normal activities such as falls.
The telehealth service is available for the following departments
Orthopedics
Gastroenterology
Cardiology
ENT
Laryngology
General Surgery
Minimal Access Surgery
Paediatric Surgery
Neonatology
Cardiothoracic & Vascular Surgery
Neurosurgery
Dental Services
Oncology
Infectious Disease
Psychiatry
Respiratory Medicine
Pediatrics
Urology
Internal Medicine
Hepatobiliary Pancreatic & Liver Transplant Surgery
Surgical Gastroenterology
Rehabilitation Medicine & Physiotherapy
Plastic surgery
Rheumatology
Neurology
Endocrinology
Nephrology
Holisttic Medicine
Dermatology