Advanced Comprehensive Epilepsy Centre
Welcome to the Advanced Comprehensive Epilepsy Centre at KIMSHEALTH. Our Centre provides cutting-edge care and holistic solutions for individuals with epilepsy. We offer a range of services designed to ensure accurate diagnosis, personalized treatment, and improved quality of life.
---
Our Doctors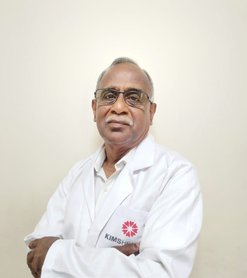 Dr. K Radhakrishnan
Senior Consultant & Head Advanced Comprehensive …
---
Neurology, Advanced Comprehensive Epilepsy Centre
---
KIMSHEALTH Trivandrum
---
Our Services
Epilepsy Syndromic Diagnosis:
We prioritize a detailed evaluation of individuals with epilepsy to achieve accurate syndromic diagnoses. This tailored approach ensures targeted and effective care.
1. Epilepsy Monitoring Unit
Our state-of-the-art Epilepsy Monitoring Unit (EMU) is equipped with advanced technology to closely monitor and record brain activity in real-time. This allows our experts to analyse seizure patterns and customize treatment plans based on individual needs.
2. Prolonged Video EEG (VEEG) Monitoring
Our Prolonged Video EEG Monitoring service combines continuous brain activity recording with video monitoring. This comprehensive approach provides valuable insights into seizure triggers, enabling our team to optimize treatment strategies.
3. Presurgical Evaluation & Epilepsy Surgery
Our experienced neurologists and neurosurgeons specialize in presurgical evaluation for drug-resistant epilepsy. We carefully assess each case to determine suitability for epilepsy surgery, dietary treatment, or neuromodulation. Our goal is to improve the quality of life for individuals living with epilepsy.
Holistic Management:Our program provides comprehensive medical, educational, psychosocial, and occupational support for individuals across all stages of life, including children, women, and the elderly.
Presurgical Evaluation & Beyond:We specialize in presurgical evaluation to identify candidates for epilepsy surgery, dietary treatments, and neuromodulation among those with drug-resistant epilepsy.
---
Videos
View All Videos

---
Articles
---