WHAT IS HIPEC?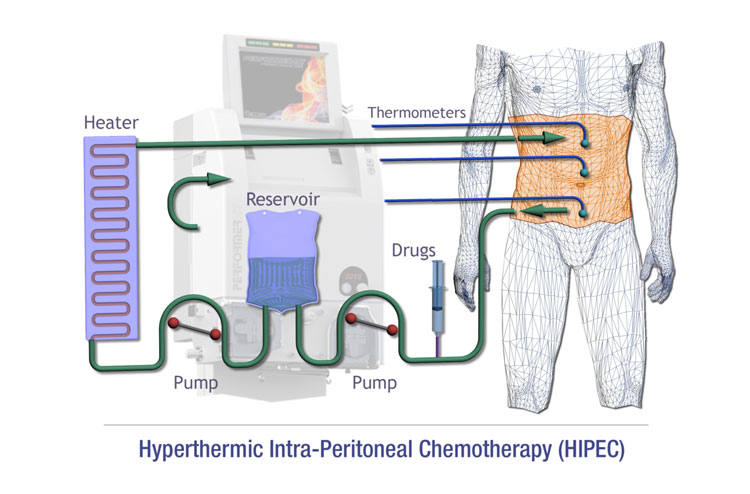 Cancer has no shame and doesn't spare anyone; it is increasingly afflicting people globally from all walks of life, whether poor or rich, old or young, notwithstanding. Not to be outdone, scientists are also pursuing research and developing newer and more effective methods to treat these cancers, with HIPEC being one of them. The full form of HIPEC is rather a mouthful and stands for Hyperthermic (or Heated) Intraoperative Peritoneal Chemotherapy.
This form of treatment is especially useful for peritoneal mesothelioma and abdominal cancers of the stomach, appendix, colon or ovaries that have spread to the lining of the abdominal cavity.
What is it
HIPEC is a highly concentrated heated intraperitoneal chemoperfusion therapy that is delivered directly to the abdominal site during the course of surgery. Unlike the usual systemic chemotherapy, where the toxic drug circulates throughout the body, HIPEC is an alternative, innovative method that delivers the drug directly to the cancer cells in the abdomen. This method also allows for higher concentrations of drug delivery. Research has shown that some drugs are better absorbed when heated, so the solution containing the drug is heated and used to flood the abdomen to take care of any cancerous cells left behind after surgery.
Method
HIPEC is a very viable option for cancer patients who have advanced surface spread of abdominal cancers, without disease involvement outside it. HIPEC is a multi-modal therapy that combines surgery with heated intra-operative, intraperitoneal chemotherapy. The first step to the procedure is cytoreductive surgery to remove as much tumour growth as possible via specialized surgical techniques. The next step is to deliver heated and sterilized cytotoxic drug to the abdomen to destroy any remaining cancer cells. Heating the drug solution refers to a comfortable 41-42 degrees, the temperature of a warm bath that is allowed to bath the abdomen for one and a half hours. The last stage is to drain off the solution and close the surgical site.
Advantages
HIPEC is an improvement on the traditional methods of chemotherapy with patients surviving for longer periods.
One of the main positives of HIPEC is that it allows for higher doses of chemotherapy as the drug is delivered locally.
It minimizes the chances of the rest of the body being exposed to cytotoxic chemotherapy.
There is better absorption of the heated drug with greater susceptibility of the cancerous cells.
Another big plus is that there are fewer side-effects to the chemotherapy.
There are better survival rates with HIPEC.
Using localized treatment that exposes more cells to drugs means there are lower chances of chemotherapy resistance.
A major downside to traditional chemotherapy is that as the cytotoxic drug travels through the bloodstream, it kills any cell that is multiplying rapidly – and ends up harming normal cells too, resulting in the uncomfortable side-effects. In this instance, HIPEC is a boon as it produces lesser side-effects.
Recovery
You will need to be patient as recovery usually takes several months with low energy levels for the first 2-3 months. However, you need to try and be as active as possible (within your limitations), each day trying to accomplish more.