Our Doctors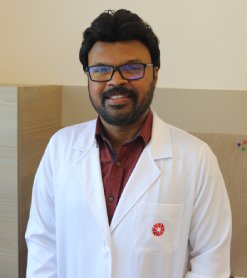 Dr. Pradeep Divakaran
Specialist
---
Ears, Nose and Throat (ENT)
---
KIMSHEALTH Medical Center Muharraq
---
Procedures & Treatments
The Emergency Dept at KIMSHEALTH Bahrain Medical Centre is committed to providing the best and reliable care when you need it the most. Our GP doctors are supported by a group of well trained staff and highly sophisticated equipment. The 24 hour walk-in clinic provides urgent care to all the patients and we are happy to treat you throughout the day to address all your medical concerns. Our emergency clinic provides the best care to both children and adults and is equipped with high quality equipment and state of the art diagnostics.
Quality and Safety combined with modern technologies is what we bring to you in our Emergency Dept. Our lower wait time and attentive staff who ensures that you have a comfortable time at our clinic is what distinguishes us from the other hospitals in Bahrain.
Ear
Removal of wax, fungus, foreign body from the external ear canal under a microscope.
Treatment of swimmer's ear, infections or abscess of the external ears, inflammation of the eardrum (Myringitis), grossly retracted and weak eardrums, glue ears (medical and surgical) and surgical treatment of perforated eardrums
Treatment of perforated eardrums – surgical.
Management of deafness, vertigo (dizziness), tinnitus (ringing in the ears) and chronic middle ear and mastoid bone infections with long-standing foul ear discharge (surgery for cholesteatoma)
Nose
Treatment of nasal allergies and nasal polyps
Management of chronic sinusitis and smell disorders.
Correction of the deviated nasal septum, deformed nose and laser surgery correction of nasal block.
Removal of foreign bodies from the nose
Throat and Endoscopies
Management of loud snoring, difficulty in swallowing (Dysphagia), Obstructive Sleep Apnea, and abscess of the tonsil (Peritonsillar).
Laser treatment for snoring (LUAP), oral cavity and laryngeal lesions.
Surgical procedures including tonsillectomy and endoscopic Adenoidectomy using the shaver.
Foreign body removal from the Tracheobronchial airway (windpipe)/ esophagus (food pipe).
Peroral removal of the styloid process for intractable glossopharyngeal neuralgia.
Head & NecksManagement of nasal mass, salivary gland disorders, deep neck space abscesses, thyroid gland disorders, and biopsy of Lymph node (neck lumps) biopsy.
---
Videos
View All Videos

---
Articles
The Information will be updated soon.
View All