Our Doctors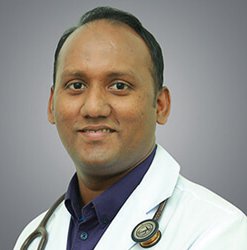 Dr. Mohamed Izudheen Irshad K
Consultant Pulmonologist & Head of the …
---
Pulmonary Medicine
---
KIMSHEALTH Al-Shifa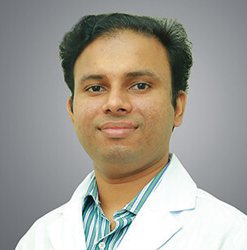 Dr. Azharul Haque K T
Consultant Pulmonologist
---
Pulmonary Medicine
---
KIMSHEALTH Al-Shifa
---
Procedures & Treatments
Our Pulmonology doctors at KIMSHEALTH are prepared to handle outpatient and inpatient pulmonary cases. Moreover, we are ready to manage complicated and intensive-care cases at our fully-established ICU.
1. Sleep Medicine:
Disruptions in sleep can be caused by a variety of issues, from teeth grinding (bruxism) to night terrors. When a person suffers from difficulty in sleeping with no obvious cause, it is referred to as insomnia In addition; sleep disorders may also cause sufferers to sleep excessively, a condition known as hypersomnia. Due to these reasons, we have the expertise in the diagnosis and management of clinical conditions that occur during sleep, that disturb sleep, or that are affected by disturbances in the wake-sleep cycle. This specialist is skilled in the analysis and interpretation of comprehensive polysomnography and well-versed in emerging research and management of the sleep laboratory.
2. Technology and Equipment used:
The Alice V sleep lab is a state-of-the-art masterpiece of the department of Pulmonology and Sleep Medicineat KIMSHEALTH Oman Hospital. Sleep labs in Bahrain are few in number, and ours allows for advance diagnosis and monitoring of any pulmonology and sleep disorders, leading to better treatment and easier observation of results. These departments offer diagnosis, management and treatment of an array of sleep and respiratory disorders such as Asthma, COPD, Pneumonias, Interstitial Lung diseases, Sleep apnea and Insomnia.
3. Features:
Fully integrated sleep laboratory system.

Expanded channel capability to 55 total channels.

High quality ECG with 6 channels and pulse transit time(PTT).

Real time impedance display.

Patient Communication/Intercom is accomplished over your network cable.

Polysomnographic scoring system for infants and adults.

Records and simultaneously displays multiple channels of waveform data.

Adapts to various patient age groups for determination of sleep and wakefulness.

System software includes raw data viewing in a variety of time and montage formats.

Capable of providing a compressed view of entire study.

Provides computerized analysis as an aid in interpreting data.

Standard and custom reports available along with on-screen review.
---
Videos
View All Videos

Articles
View All