Hepatobiliary, Pancreatic & Liver Transplant Surgery
The Department of GI, Hepatobiliary, Pancreatic and Liver Surgery at KIMSHEALTH is a super specialty unit dealing with the management of diseases related to the human gastrointestinal tract and the related organs. The Department has a team of highly qualified and experienced Surgical Gastroenterologists performing a wide range of surgical procedures for Oesophago-gastric, Hepatobiliary, Pancreatic, Intestinal & Colorectal cancers and Bariatric procedures.
Our Doctors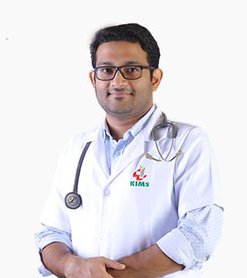 Dr. Varghese Yeldho
Association consultant – Hepatobiliary and liver …
---
Hepatobiliary, Pancreatic & Liver Transplant Surgery
---
KIMSHEALTH Trivandrum
---
Procedures & Treatments
Minimal Access Surgery is used by our Gastrointestinal Surgeons to treat major gastrointestinal surgical problems of the intestines, pancreas and hepatobiliary tract including cancers. Apart from this, our renowned transplant care program performs adult and pediatric Liver Transplants as well as cutting edge Hepatobiliary procedures.
KIMSHEALTH Liver Transplant Program offers a comprehensive and multi-disciplinary approach to the treatment of irreversible liver disease, which has fostered excellent results in patient survival and quality of life. At KIMSHEALTH, you will have access to doctors who have vast experience in treating conditions relating to the hepatobiliary system, pancreas and other areas.
---
Videos
The Information will be updated soon.
View All Videos

---
Articles
The Information will be updated soon.
View All