Infectious Disease
The infectious diseases department at KIMSHEALTH is one of the few dedicated infectious disease departments in the entire country. The department has highly qualified consultant physicians with training in infectious diseases and a dedicated infection control division. The department caters to a variety of illnesses, most notably hospital-acquired multidrug-resistant infections, transplant-related infections in cancer patients. It is one of the few private centres in Kerala which provides comprehensive care for HIV patients. The hospital infection control team makes sure that the hospital-acquired infection rate at KIMSHEALTH is the least and confirming to international standards.
Our Doctors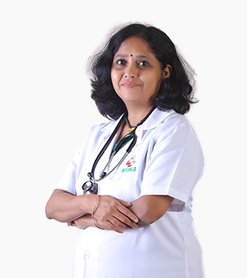 Dr. Rajalakshmi A
Consultant
---
Infectious Disease
---
KIMS Health Trivandrum
---
The measures which are taken to protect our guests (patients):
We follow the tenets of Standard Precautions for every guest to prevent infection transmission between patients and HCW.
Hand Hygiene

Respiratory hygiene

Safe injection practices and sharps safety

Clean and safe environment of care by proper disinfection protocols

Safe and sterile instruments for procedures

Safe and appropriate disposal of biomedical waste

Appropriate use of personal protective equipment to curtail transmission of infections
If you have an infection of special concern, the principles of Isolation Precautions are followed.
Negative pressure isolation is used for specific infections.
Other measures that add to the safety of all:
Antimicrobial Stewardship Program to monitor correct antibiotic choice for better patient outcome

Surveillance of Healthcare-Associated Infections with measures in place to ensure

international standards like INICC and CDC

Measures are taken to protect our employees:

Comprehensive pre-employment check, including infection screen

Necessary vaccinations to protect our employees from infections acquired by occupational exposure and management

Annual check-up

Provision of appropriate personal protective equipment and training
The measures which are taken for the COVID19 scenario:
Measures are in place to ensure the safety of both guests and hospital employees

All persons with fever or respiratory symptoms are assessed separately from all other guests.

All necessary precautions including the appropriate use of PPE, guest placement, safe testing are in place

Protocols are in place to care for patients with respiratory symptoms in a designated

isolation area, away from the clean zones
Hospital antibiogram:
Judicious antibiotic use is important for preventing the emergence of antibiotic-resistant bacteria and KIMSHEALTH takes all measures towards this. KIMSHEALTH anti-biogram and guide to empiric therapy for common infections is prepared annually and shared with clinicians for use. Antibiotics used for clean surgeries are limited to single-dose as per international standards.
Training:
KIMS Certification in Infection Prevention for Nurses: 4 months course for nurses (in-house andother hospitals) with monthly contact classes and exit exam
Ongoing training for all hospital staff and recruits and postgraduates"
Facilities Available
● Prevention of infection transmission
● Control of outbreaks- community and hospital
● Prevention of device-associated infections
● Employee health and vaccination
● Liaison with the government in reporting communicable diseases
● TB reporting, drug delivery, and follow-up through the NIKSHAY portal
● HIV reporting through SAATHI portal
---
Videos
View All Videos

---
Articles
View All