Nutrition & Dietetics
The department of Nutrition and Dietetics at KIMSHEALTH is centred around helping patients maintain a healthy lifestyle and remain fit. KIMSHEALTH provides customized, guideline-based dietary plans for patients, keeping in mind their health problems and nutritional requirements. Multidisciplinary in approach, the dieticians at KIMSHEALTH provide crucial support to all specialties by assessing, monitoring and optimizing the nutritional status of patients, including those who require intravenous feeding.
Our Doctors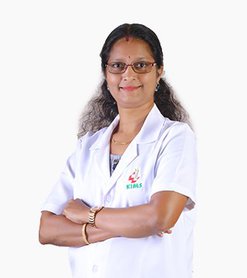 Dr. Jayasree N S
Dietician
---
Nutrition & Dietetics
---
KIMS Health Trivandrum
---
Procedures & Treatments
Individualized diet prescriptions and advice to patients.

Providing special nutritional care for critical cases

Tube feedings involving Rhyles tube, nasojejunal tube and PEG feeds. It is ensured that each patient's food requirement is fulfilled completely with the necessary calories, protein, fat, fiber and suitable nutrients in the feed formulation

Customized diet, hygienically prepared and served to all in-patients based on their medical requirements.

Diet counseling for clients coming for executive diabetic health check-up.

Antenatal nutritional counseling for gestational diabetes.

Community nutrition program, talks on food and health, awareness sessions on nutrition.

Nutrition support services for corporates and industrial houses.
---
Videos
View All Videos

---
Articles
View All